LABOUR'S West Midlands Mayoral candidate Liam Byrne unveiled seven pledges as part of his campaign on Tuesday before touring the region to take his message on the road.
They were based on 10,000 individual conversations, ideas, thoughts or comments he received from residents across the region in the past 12 months.
He said he saw the common themes people would like to see implemented and based the proposals on those.
Among them were the West Midlands getting its fair share of funding from central government, the region being the first to reach its net zero carbon target, securing 200,000 skilled green trades and manufacturing jobs in the process and bringing back industry by turning brownfield sites into green manufacturing zones. He vowed to double apprentice numbers – which were down 40 per cent – with free retraining for workers who had lost jobs. Youth unemployment reaching 20 per cent was also an inspiration for the pledge.
Mr Byrne vowed to build more homes – doubling the number of affordable warm properties – to put a roof over everyone's head, prioritising brownfield not green belt for development.
Another issue people expressed concerns about was the future of the region's young people and Mr Byrne has pledged to put youth workers in every West Midlands neighbourhood. He added statistics showed the number of youth workers had been cut by 80 per cent.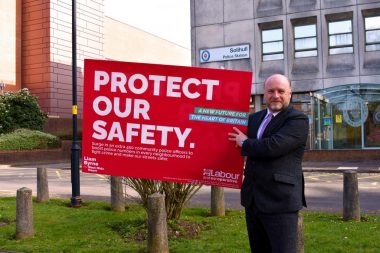 Addressing crime concerns, Mr Byrne has a plan to put an extra 450 police community support officers in neighbourhoods and he wants to champion community spirit by putting a decade of investment into grassroots sport, arts, parks, green spaces, high streets, markets and festivals.
He said: "Our community spirit has been key in getting us through the pandemic and we are in a unique situation in the West Midlands in that we have Coventry as the UK City of Culture this year and the Commonwealth Games coming to Birmingham next year.
"Over the past year we have had three 'earthquakes' – the Covid pandemic, leaving the EU and a climate emergency.
"People have told me they don't want to go back to what we had before those events, they want more.
"We are being short-changed by central government and people have seen what Andy Burnham has done in the north west and they want a mayor that gets the same results."
He added, through his role as an MP, people had appreciated what he had done for his constituency and by making these pledges the electorate could hold him to account to ensure he carried through his plans.
Mr Byrne visited places to epitomise each of the pledges, including the Coventry Transport Museum, Solihull Police Station and Birmingham's Centenary Square, along with Walsall's Mossley estate, Wolverhampton's Molineux stadium, the Black Country Museum and Sandwell College.